Narrow Gauge
---
A strange narrow gauge roundabout
Changsha, Hunan Province, China
Location: uphill behind Taoist temple, public garden of Changsha, Hunan Province, China.
Timespan: Unknown. (Inactive but apparently in good working condition in December 2000).
Description: A 60cm (approx.) gauge elevated electric children roundabout, featuring motored railcars shaped as MIG fighters. The roundabout has a very simple, circular design. The railway was inactive at the time of my visit (2000/12/15) and the railcars stored out of reach in the middle of the circuit. As a consequence, I have been unable to see the controls that were available to the children in the "MIGs" (maybe it was simply a toy train-like command by an adult on the platform).
Timeline: Unknown.

Any additional information on this roundabout most welcome !
---
Picture Gallery
All pictures Copyright © 2000 by Frederic Delaitre.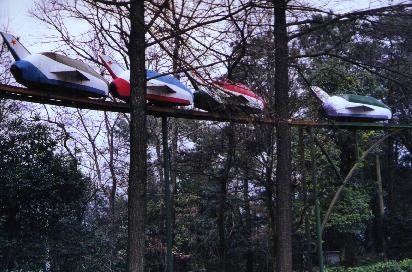 "MIGs" in the trees, waiting probably for the summer season.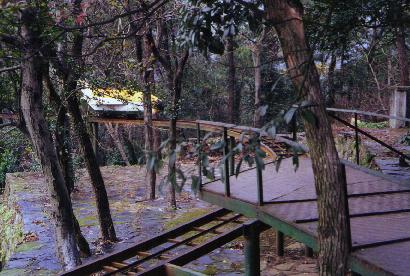 Detail of loading platform.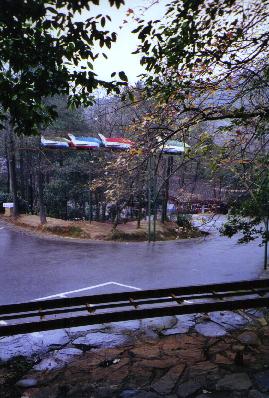 Detail of the track with the stored "MIGs" in the background. The third rail in the middle of the track is electrically connected, though I could not determine whether it acts as a feeder or ground wire.
---
Return to Home Page.
Created: 01/01/07