SMRG
---
Home > SMRG > Eurotrack 2010
Eurotrack 2010
Fleming Park Leisure Center,
Eastleigh, Hampshire (UK)

February 27th/28th, 2010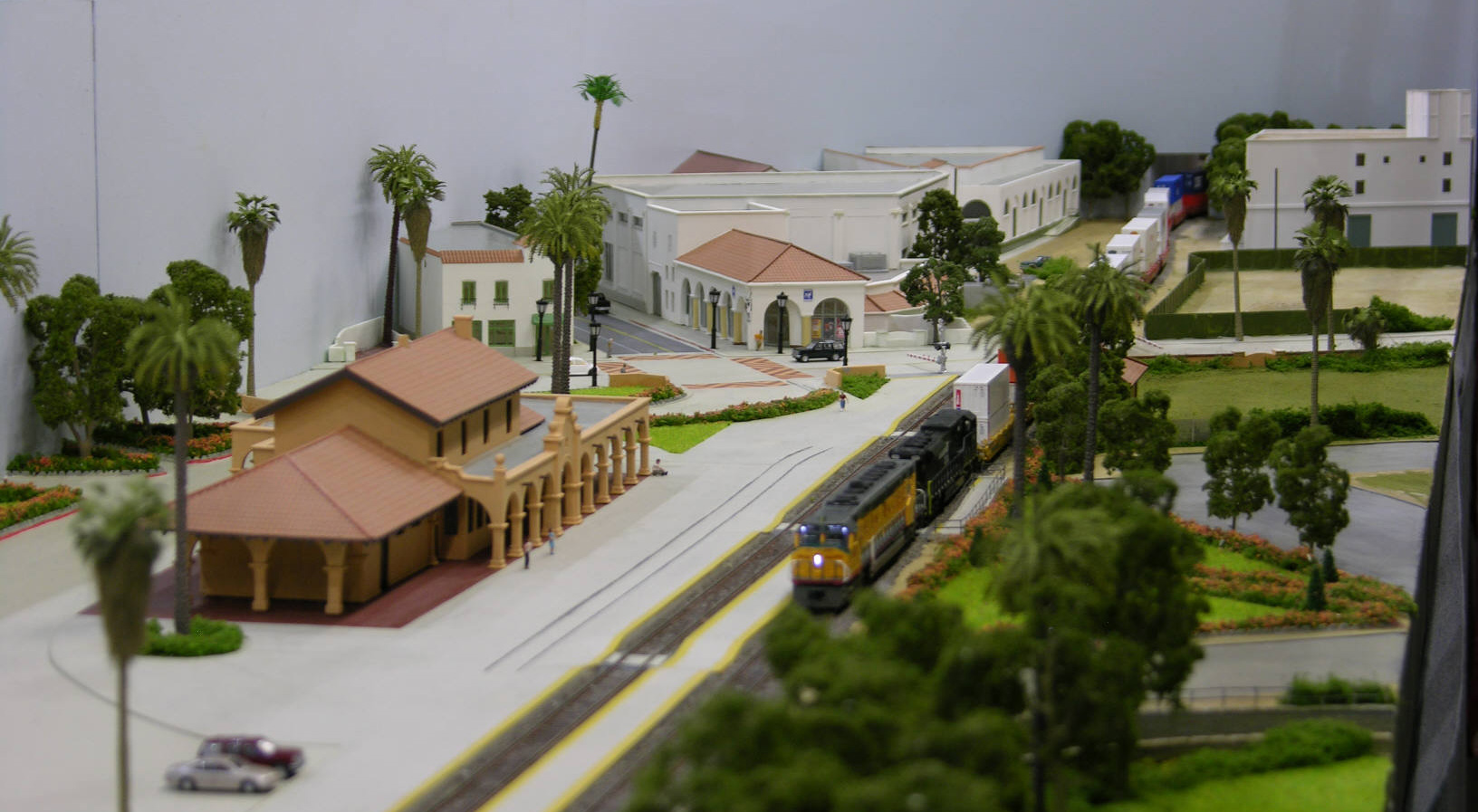 Special Report
Click on pictures to enlarge.Text in italic is extracted from the Exhibition Guide 2010.
[1n16.5 (30.5 / 16.5)] - Bramble Bottom
By Bev Rawlings, Cambridgeshire.
" The home to all moles, ladybirds and mice but most of all it is home to the Bramble Bottom Rail System, BBR for short. With a small school house beneath the tree stump and a dozen or so houses, life goes on without incident. Well! Except when Edwin Earwig sat on Malcolm Mouses?s blackberry pie. Edwin still can?t get the stain out of his trousers. Every day the BBRe express train delivers mail for the snail Xpress delivery Service and then takes passengers to Lower Bramble Bottom to do their shopping or to work in the honey factory run by Brian Bumble Bee! The goods trains also regularly delivers strawberries, blackberries and other fruits plus building materials for use by the locals. This unique layout is the brainchild of Brian Rawlings known for his Grumstick and Dipplewick Railway. The layout is very popular on the exhibition circuit and we hope it is enjoyed as much as Brian enjoyed building it. Peco track has been used with SEEP electromagnetic uncoupling system and bell cranks and rods to operate automata. "
[N (160 / 9)] - Santa Barbara, California
By Ian Lampkin, Redhill, Surrey.
" The Concept. The Surf line is the name given to the stretch of railroad that runs from San Diego up through Los Angeles to Santa Barbara, One hundred miles to the north of Los Angeles. It gets its name as a large part of the route hugs the coastline. Amtrak passenger trains run over this stretch of line with two trains a day continuing north of Santa Barbara, one of these being the Coast Starlight which travels between Los Angeles and Seattle in the north of the country. The stretch of line north of Los Angeles is owned by Southern Pacific (now part of Union Pacific) while south of LA to San Diego is owned by Burlington Northern Santa Fe. The Layout. The first layout, "California Coast, The Surf Line? was modelled on the area around Santa Barbara. However this layout is a near scale model of the area around Santa Barbara Amtrak station which is between the beach and the main downtown shopping and restaurant area. Many photographs and measurements have been taken in the vicinity of the station to recreate as many of the details as possible but some compression of the area modelled has had to be made. Hopefully, this doesn?t spoil the overall scene. A large number of trees including different types of palm trees have been used as per the real location. There are many other types of trees such ones with a violet flower that can also be seen on the layout. Atlas code 55 track is used on the scenic sections whilst Peco finescale track has been used in the fiddleyard using SEEP solenoids for the turnouts. All buildings have been scratch built from plastic sheet and are as close to scale as can be from scaling form photographs and from pacing out the wall s. Also great use of Google maps and Google Streets has been made to check proportions and locations of buildings relative to each other Rolling stock and locomotives have been detailed and are from a number of manufacturers such as Kato, Atlas, Roundhouse and Microtrains. "
[H0 (87.1 / 16.5)] - Kuppla Yard
By David Barclay, Stubbington, Hampshire.
" Kuppla Yard represents a rail switching yard on the outskirts of a large industrial town, probably on the Eastern seaboard. However, it can be "Wherever you want it to be!? The scene depicts the railroad still hard at work in the wee small hours! A darkened city back-scene and blue LED floodlighting give a moonlight glow. Ambient sound and some theatrical lighting effects help to make the scene a little different from the usual. (Look out for "Fat Joe?s Disco?, and 'Pompey Lil' staggering home after a hard night's work, and the pipe laying gang struggling to finish before the morning rush begins). Operation is from the front of the layout, using an NCE Powercab DCC control, the switches "
[N (160 / 9) ] - Last Minute Crossing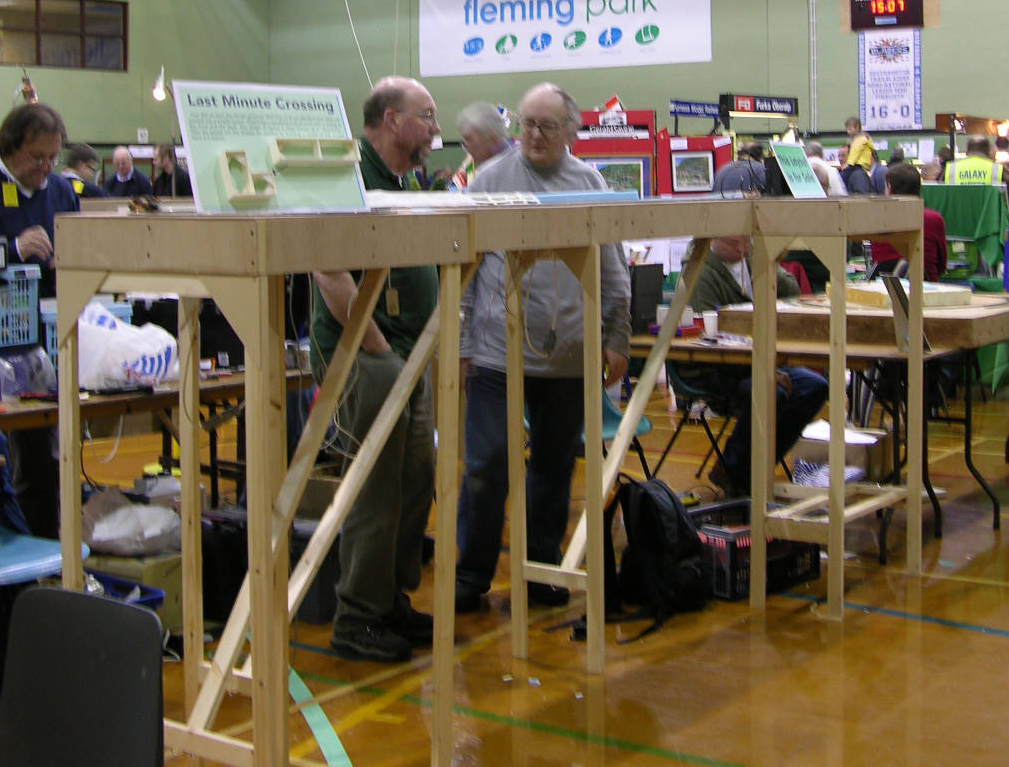 By Keith Harcourt, Andy Dancy, John Hooker, Harry Stroud and Mike Tame, Uckfield Model Railway.
" Many US mainline railroads are single track with passing places such as this. We built the baseboards at the show last year and we hope to have at least the track down before you see it. We know it is high off the ground, but the smaller the scale the more important it becomes to view it from the proper angle i.e. the same angle you see real trains from. The layout is called a dogbone because it is long and thin with a lump at each end where the track goes round in a circle. It is the most space efficient way of having a round and round layout complete with a fiddle yard. 21 "
[00 (76.2 / 16.5)] - Long Pondering Junction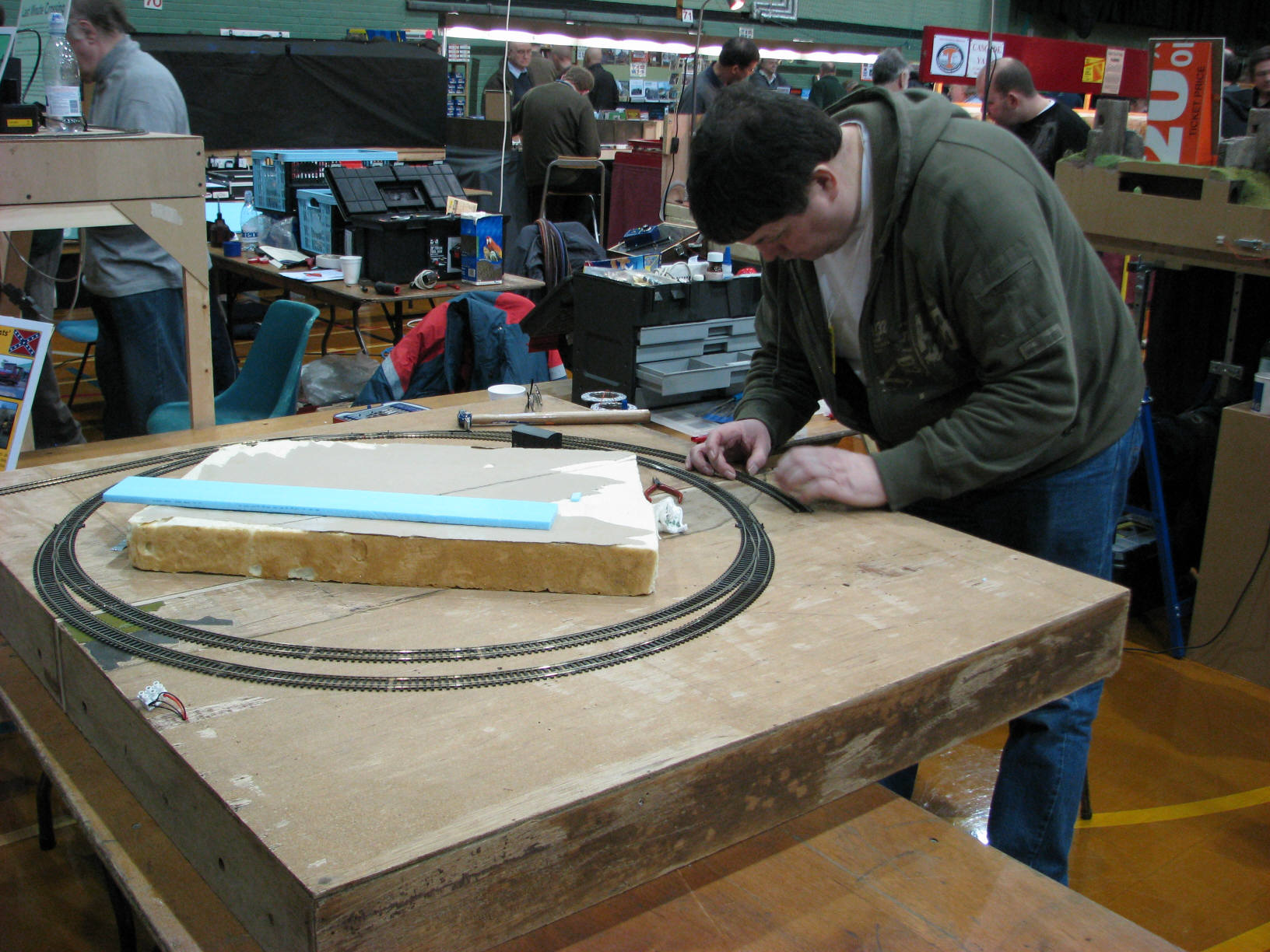 By Andrew Dancy, Uckfield Model Railway.
" Andrew has been going round in circles for twenty years thinking about, (or pondering on), this layout and the thought of this exhibition galvanised him into action. Joking, apart, this layout was inspired 20 years ago when Andrew visited an exhibition and saw a layout built completely on a curve and there the idea was born. Everything you see on this layout can be purchased from any good model shop and it could even have been built starting with a train set. The layout is based on one in Paul Lunn?s book "Micro Layouts".
[009 (76.2 / 9)] - W.O.R.M.
By Peter Molyneaux, Ringwood.
" This layout was originally part of a group from Southampton Model Railway Society comprising four modules of 4ft x 2ft baseboards linking together to form a large working layout. It was named WORM as an acronym of the surnames of the builders. This layout was exhibited in Bournemouth in 1971 after which it disappeared into storage. Having discovered my board in the loft I felt it would be an interesting exercise to rebuild / refurbish this part of the layout. In order to make a complete scheme two new boards were made to flank the original module enabling the outer circuit of the plan to be complete. At the time 009 narrow gauge was very popular but as little in the way of proprietary buildings were available most of the structures were scratch built. The original buildings required some restoration and the church which had been a kit but was badly damaged, was replaced. In order to match the home made furnish the structures on the new boards were also hand built. Having been in contact with one of the original team I was able to obtain a selection or original stock which forms the backbone of the services running today. As a restoration project some of the detail is a little crude by current standards but this it is hoped conveys a vintage charm. "
[0-16.5 (43 / 16.5)] - Gravel Bottom
By Brian Wilson, Uckfield Model Railway.
" This very old English Cider Mill with its narrow gauge railway, which today hauls gravel from a nearby pit, is actually based on a design from America. In other words the design was stolen from Carl Arendt?s wonderful website, but we?ll draw a veil over that. The Mill opened in 1729 and had a great reputation for very, very potent cider. The famous Pink Perry which was also made here and drunk by the Royle Family at 27 Sidebottom Road, Ramsbottom. High quality industrial gravel, (also used as budgie grit and cat litter), arrives by narrow gauge railway and is automatically tipped into standard gauge wagons which disappear into a tunnel beneath the Mill. "