Voie étroite / Narrow Gauge
---
[ Home | Notes | Lost Subways |Strange Railways | Narrow Gauge | Railway Modelling | Links ]
Voie étroite au Musée des Arts et Métiers
Narrow Gauge at the Paris Museum of Arts and Trades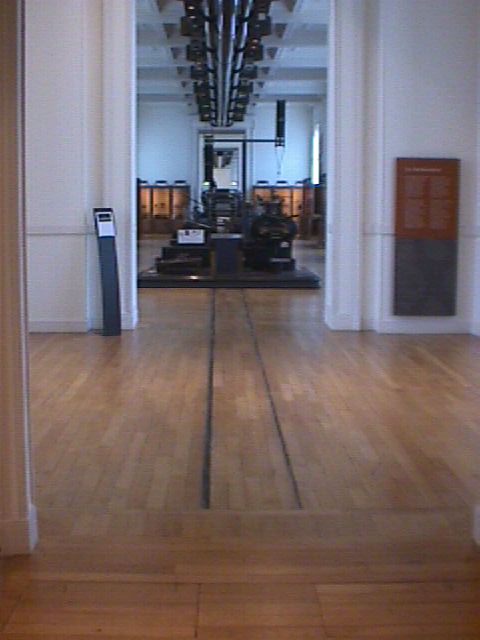 Voie de 50cm dans le premier musée technique français
50cm gauge track in France's first technical museum
---
Présentation :
Le Conservatoire National des Arts et Métiers (CNAM) de Paris a été fondé le 10 octobre 1794 par la Convention, à l'initiative de l'Abbé Grégoire. Conçu comme une sorte de "dépot légal" des techniques et des métiers, le CNAM intégra à partir de 1819 une activité d'enseignement.

A la fin du 19è sièecle, le CNAM s'équipa d'un réseau à voie de 50cm, probablement d'origine Decauville, qui servait à déplacer les maquettes et les expériences entre les réserves et les salles de classe et les amphitéatres. La traction humaine était vraisemblablement employée...

Lors de la rénovation du musée, qui s'acheva en l'an 2000, l'architecte Andrea Bruno conserva en partie ce réseau dont on peut retrouver la trace au rez-de-chaussée et au premier étage du musée.

The National Conservatory of Arts and Trades (CNAM in french) was founded in the aftermath of the French Revolution on October 10th, 1794, an initiative of the Abbé Grégoire. At first, it was a clearing house and museum for technology. From 1819, the CNAM became in addition a technical school, still in operation today and well known for its evening classes.

At the end of the 19th century, the CNAM laid out a 50cm narrow gauge internal railway for the transportation of models and exhibits between storerooms and classrooms.

The CNAM museum was closed for many years for rebuilding, and eventually reopened in 2000. The architect, Andrea Bruno, decided to keep some parts of this railway. Remains may be found on the ground floor and the first floor.
---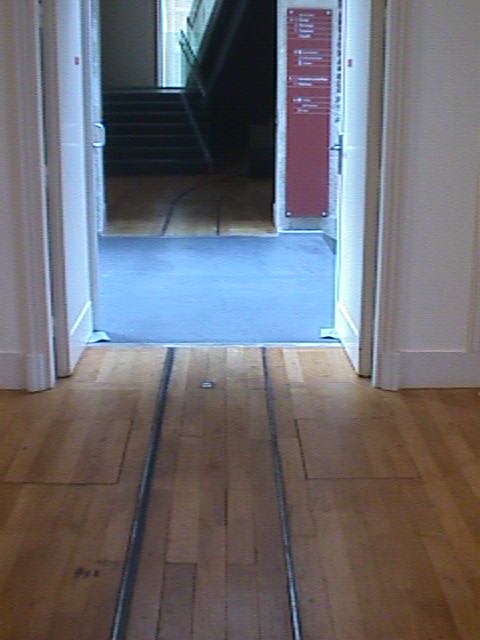 1er étage - la voie n'est pas en alignement.
1st floor - the track is not straight.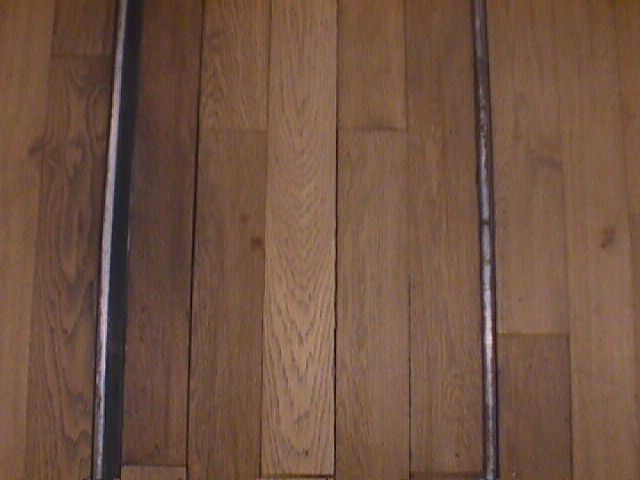 Détail de la voie - écartement 50cm (vérifié sous l'oeil intrigué et vaguement inquiet des gardiens du musée :-), rail à gorge type Broca à gauche, simple profilé à droite.La gorge du rail est bouchée par un profilé plastique.
Track detail - gauge 50 centimeters (checked under the bewildered and somewhat anxious eyes of the museum attendants), Broca tram-type slot rail on the left, simple iron rail on the right. The rail slot is sealed with rubber.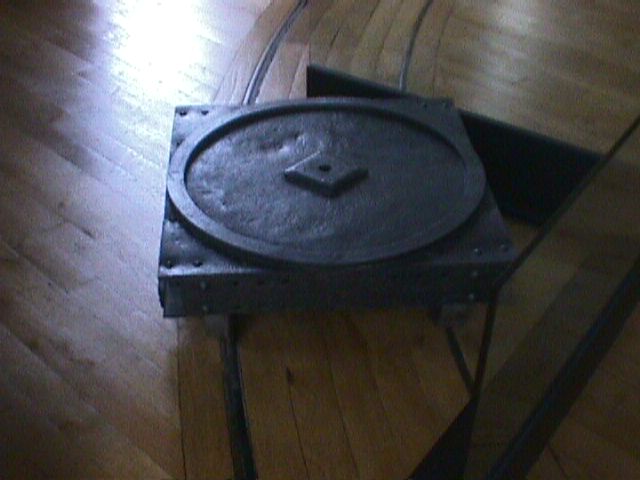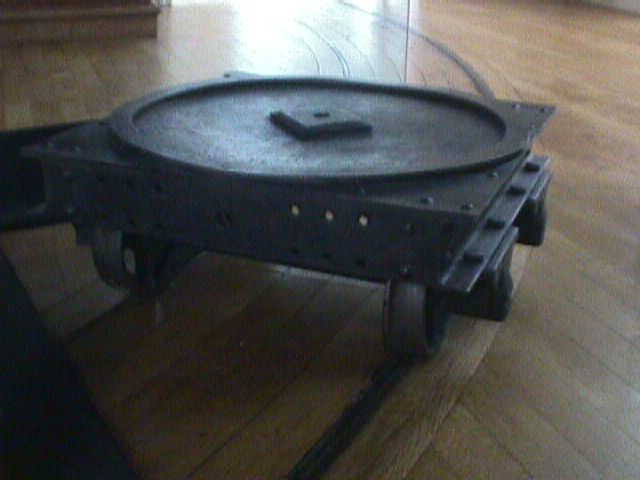 1er étage - un wagonnet préservé. Dimensions: 730mm par 730mm. L'essieu comporte une roue à boudin d'un seul côtè.
1st floor - details of a preserved wagon. Dimensions: 730mm by 730mm. Wheel flange on one side only.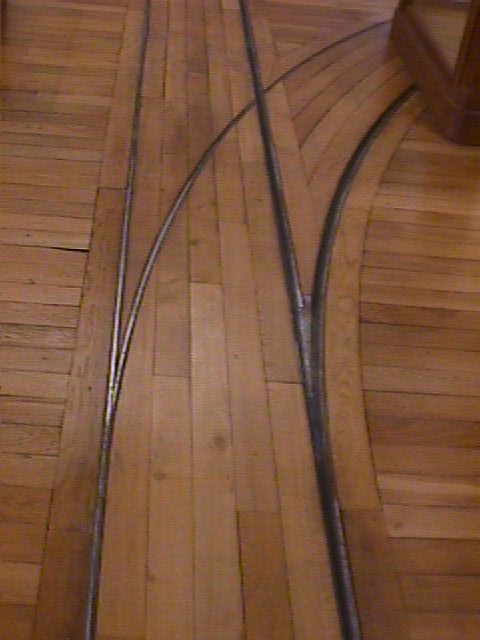 1er étage - appareil de voie au niveau du "Théàtre des automates".
1st floor - switch/point near the Mechanical Theatre.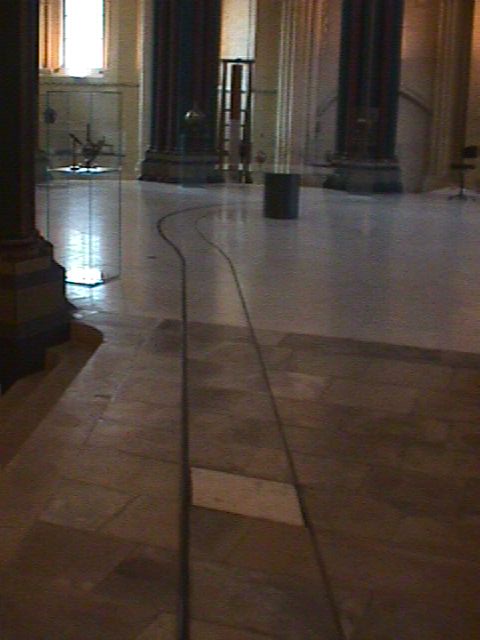 Rez-de-chaussée - dans l'ancienne église Saint-Martin-des-Champs, la voie contourne le pendule de Foucault...
Ground floor - in the former church Saint-Martin-des-Champs, the track goes around the Foucault pendulum...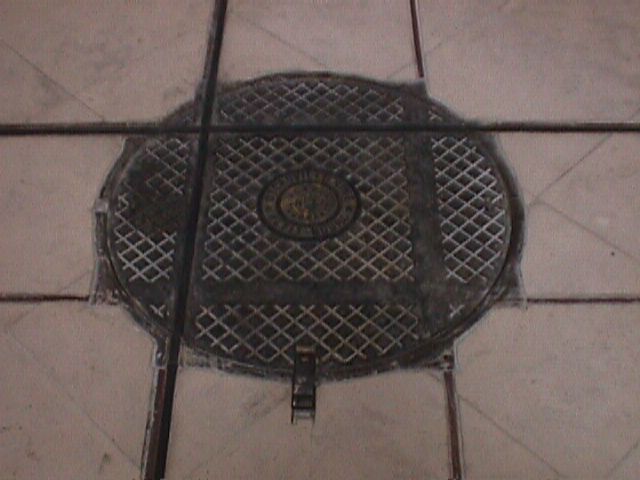 et se dirige vers cette superbe plaque tournante...
and heads towards this superb turntable...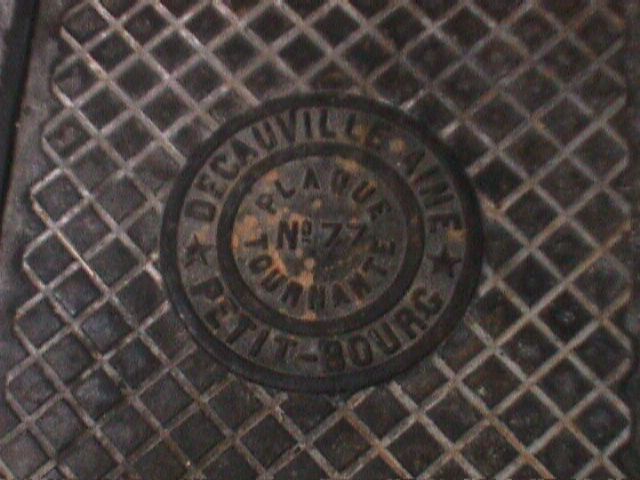 ... d'origine Decauville à Petit-Bourg, bien sûr.
...made by Decauville in Petit-Bourg, of course.
---
Bibliography:
UNIVERSALIA 2000 - Pierre PIGANIOL : "Réouverture du musée des Arts et Métiers Paris", pp. 370-371.
---
Liens / On-line resources:
Le site officiel du / official site of the CNAM.
---
Retour à l'accueil en français
Return to Home Page