SMRG
---
Home > SMRG > Eurotrack 2010
Eurotrack 2010
Fleming Park Leisure Center,
Eastleigh, Hampshire (UK)

February 27th/28th, 2010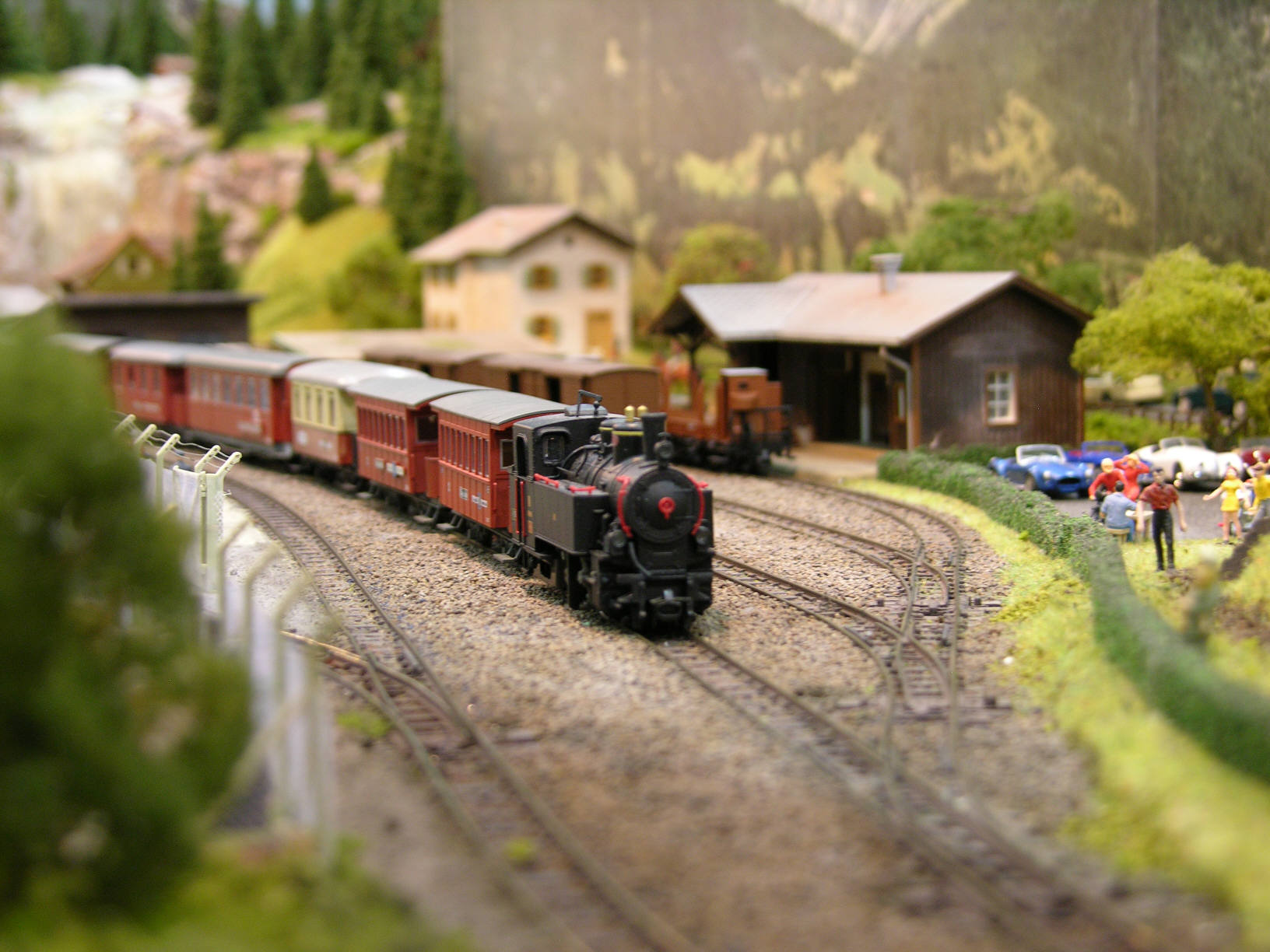 Special Report
Click on pictures to enlarge.Text in italic is extracted from the Exhibition Guide 2010.
[HOm] - Furka Oberalp
By Ian Edwards, Cumbria.
" " Set somewhere on the Swiss Furka Oberalp Bahn, Between Andermat and Disentis, the layout features working rack and pinion operation allowing the trains to climb approximately 3 feet as they wind their way around the layout, With UP and Down trains passing each other at the small station which is also served by Funicular railway. Following on from our large club layout "Oberfriedhof" the baseboards have been built at 45degrees. It also is a test bed for an operating system which has at its heart a programmable logic chip. Developed by members of the Furness Model Railway Club, it allows a sequence of trains to be run automatically. If you have any questions "
[HO] - Köln USW
By Andrew Knights, Steyning, West Sussex.
" Along with my other exhibition layouts, Köln USW, is constructed in a folding box, two metres by a foot. In this space I have tried to recreate the sort of semi-bucolic scene found in the Köln-Bonn hinterland. An area of rivers, ponds and large chemical works factories, and, yes, countryside! The scene before you shows a small station on a recently singled secondary line in this area. In theory it runs to connect with the site of another layout Köln Vorstellbar. Various multiple units may be seen running over the embanked line. Passengers are few at the small station. It sees trippers and those interested in ein Kleiner Bummell. It is only busy when the schools finish for the afternoon or at factory shift change times. The main activity takes place in the exchange sidings below. This is where wagons are sorted and swapped between the factory lines and those of the local Hafen und Guterwerk Köln (HGK) line. The cars are switched by either the HGK trip engine or the little KöF shunter, sold into industrial life. The line is a form of "Inglenook" though different due to its double ended nature. The wagons are sorted according to a simple picture card system. First in a session utilising the HGK locomotive and next by the Bayer Köf. This is repeated etc (Und So Weite) The couplings used within the freight yard are the European version of Kadee?s. If you have any questions about "Layouts "
[HOe] - Wildschönau
By David Coates.
" Wildschönau is a beautiful valley nestling between the Kitzbuheler Alps and the Wilder Kaiser in Austria. "Wildschönau" means "Wild and Beautiful" valley. This Wildschönau is an HOe layout representing Austrian narrow gauge railways and tries to give an impression of the scenery of the area. The Austrian narrow gauge railway of the Pinzgauer Lokalbahn ends at Krimml, an extension was proposed but never built. This layout assumes that the railway was extended past Krimml 38 Km to join the Zillertalbahn at Zell Am Ziller. This extended railway provides a scenic route for tourists visiting the Hohe Tauern National Park and the Krimmler Falle waterfalls.In the summer there are lots of visitors taking advantage of the valley and hill walks, and also more challenging hikes to mountain peaks. The through trains are hauled by 2095 diesel locomotives and the local passenger service handled by 5090 type diesel railcars. Freight is handled by a mixture of older locomotives including the type 2091 diesel locomotive. The regular steam specials are run by the local preservation society. With the closure or privatisation of many of Austria?s narrow gauge railways there are always visiting trains from other railways. This layout was featured as "Railway of the Month" in Continental Modeller November 2006 and also featured on the Railway Modeller\Continental Modeller CD in January 2008. "
[-] - Lego Railway
By Benelux Railway Society.
" A big thank you for members of the Benelux railway supplying a Lego railway to fill the space of St Anne's layout The owner of St Anne's had to withdraw due to illness. We hope he recovers soon and can bring the layout to the show next year. "
[HO] - Oosterhout Noord Dokken

By Phil Colton, Benelux Railway Society, Newmarket, Suffolk.
" A small Dutch minimum space dockside shunting layout. "
[TT] - Riverside
By Dave Harris & John O'Dellitts.
" This is a 'continental' TT scale (1:120) model railway layout that represents the German West Rhine railway double track line running along the West bank of the river Rhine, in the gorge South of Koblenz, by the Loreley. A very German subject to model, but made in "
[HO] - Liviano
By Alan Marlow, London.
" Finally after many years of collecting stock, looking at photos and even travelling on the real thing I?ve at last got round to building my first Italian layout, with I must add, the combined knowledge, help and expertise of many friends in the Italian Railways Society. So why Liviano ? Well my niece is called Olivia and we always call her Livvy so I thought Liviano sounded like a suitable name for an Italian town. The layout is eight feet in length with a four foot long fiddle yard at each end. Everything folds together in order for it to fit a medium sized saloon car although I must admit an estate would allow me another scenic board or two. I?ve used Rimini Models building kits wherever possible along with some scratchbuilt low relief ones along the backscene. The main part of the station building is a Minitalia Kit but I have made some extension pieces to make it more impressive. The grey fencing opposite the café is a genuine Italian artisan white metal product. Track is Peco code 75 but I?ve cut through every sleeper tie and re-spaced the sleepers to give a less uniform look to the trackbed. Woodland Scenics medium grey ballast (ref: B81 ) has been used on the track which itself sits on a 1mm card underlay. Points are operated by SEEP point motors modified to give a more reliable switch to the frog polarity. All over the layout I have tried to use subtle colours to portray a sun drenched little town somewhere near the Adriatic coast. A lot of the grass is Woodland Scenics yellow turf (ref: T43 )and I?ve used Tamiya acrylic paints for the buildings, usually starting with white and just adding enough orange or red to get a sort of pale cream or terracotta finish. The rolling stock comes from the usual suspects, Roco D345, Lima Aln 668 railcar, Rivarossi D245 shunter plus a couple of Aln 772 railcars from GT Modelli. The whole thing runs quite well because the points are all of the live frog variety and I?ve used heavy gauge wire for all the track feeds. The layout is analogue rather "