Expométrique 2000 - Les coulisses / Seen from backstage
---
Expométrique 2000

Les coulisses / seen from backstage
---
Quelques photos / Some pictures...
All pictures © 2000 by Frédéric Delaitre.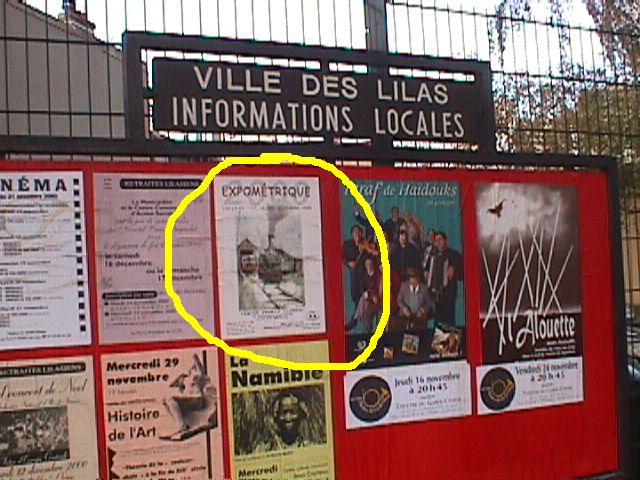 L'exposition du GEMME était annoncée en bonne place sur les panneaux d'affichage municipaux
GEMME poster was clearly visible on municipal billboards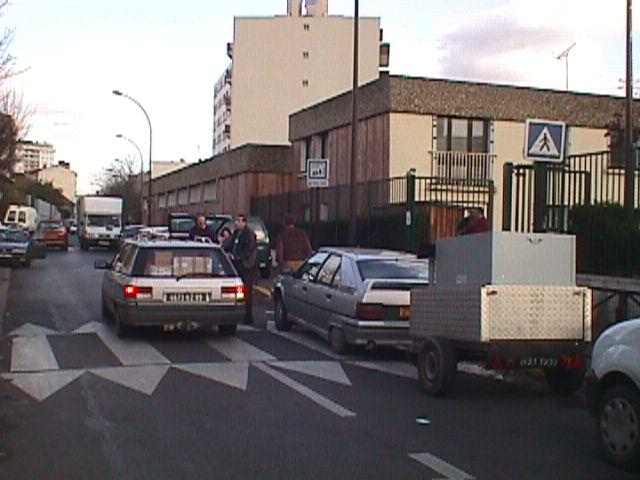 Trois heures avant l'ouverture, les traditionnels embouteillages des exposants...
Three hours before the opening to public, the traditional traffic jams for the exhibitors...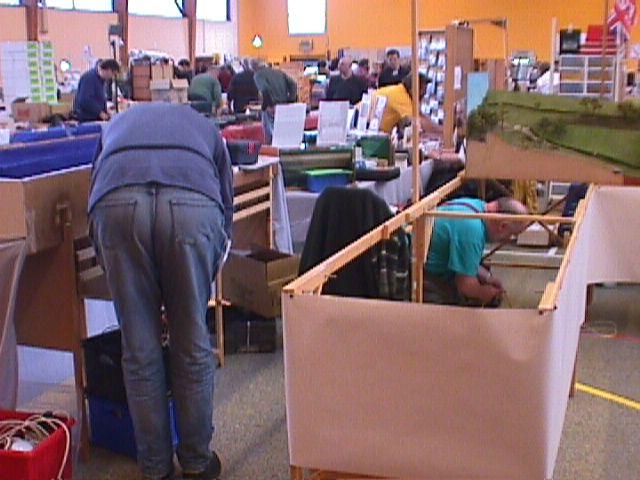 Autre vue classique : le montage des modules (ici le club de Greenwich)
Another traditional view: module erection (here can be seen the Greenwich MRC)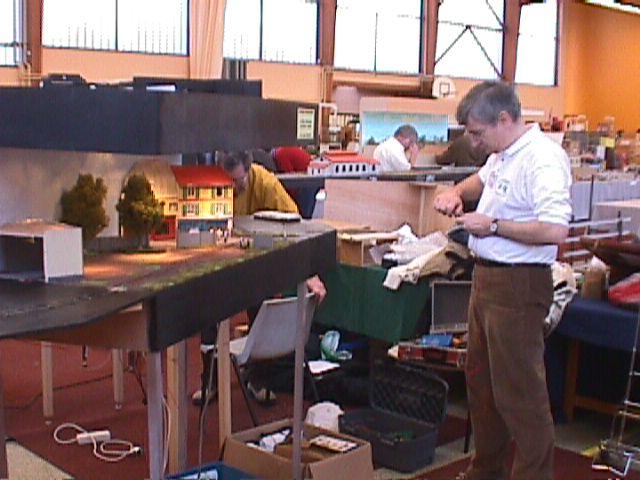 Le réseau hexagonal du GEMME : derniers préparatifs de Jack Treves
GEMME hexagonal layout: last minute details by Jack Treves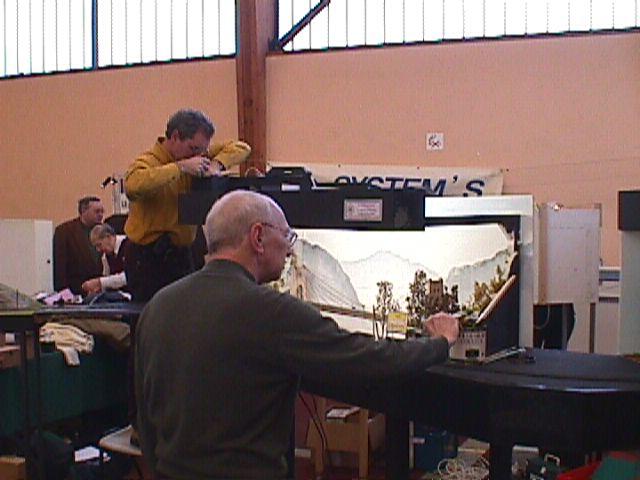 ...et de Gérard Ducret
...and Gérard Ducret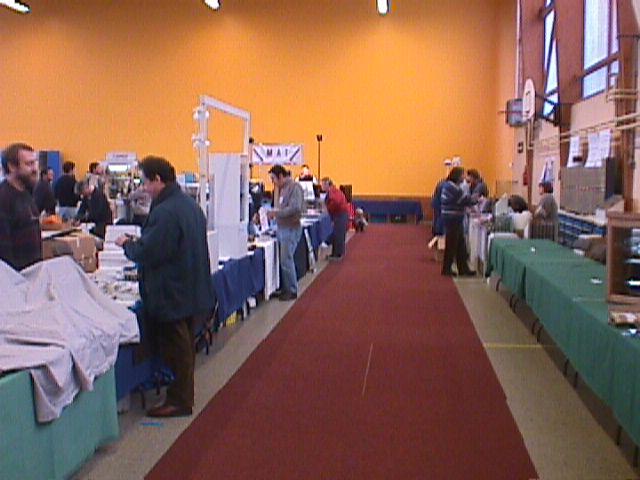 Une vue très rare pendant les 3 jours de l'expo : une allée (presque) déserte !
A very rare view during the 3 days of the exhibition: an (almost) desert passageway !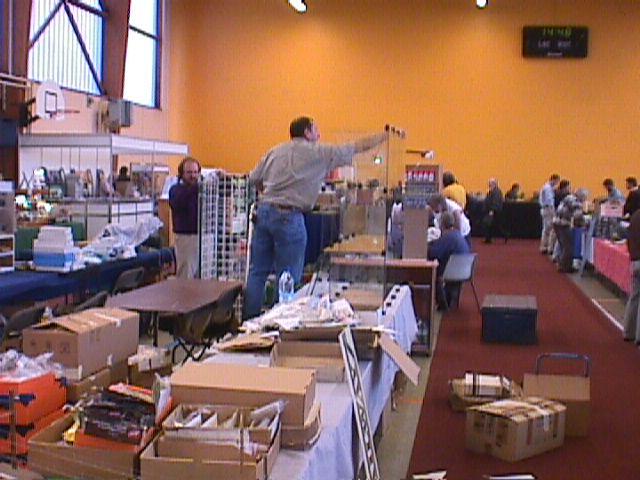 Alain Angelini (de RAILWAY) surpris en pleine action avec son célèbre marteau à débomber les vitres.
Un grand classique d'Expométrique depuis près de 15 ans ! ;-)
Alain Angelini (from RAILWAY) caught in full action with his famous hammer,
a great Expométrique classic for nearly 15 years ! ;-)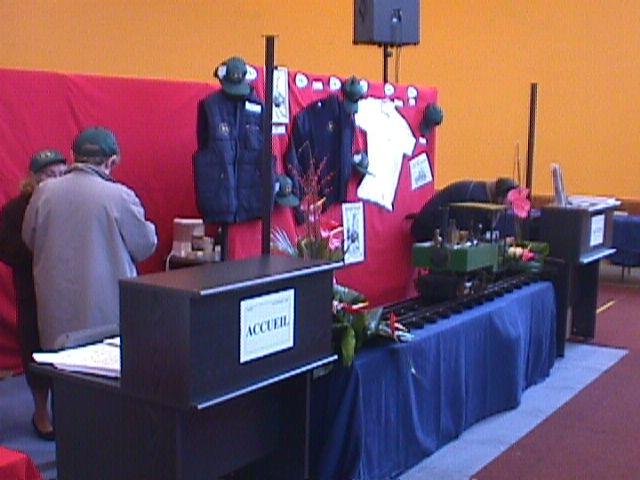 Le stand du GEMME - qui avait émigré dans la grande salle - quelques minutes avant l'ouverture.
Au mur, toute la "mode GEMME", collection Hiver 2000 ! ;-)
GEMME stand, a few minutes before the opening to the public (this year, it has migrated inside the main exhibition hall).
Hanging to the wall, the GEMME fashion wear - Winter 2000! ;-)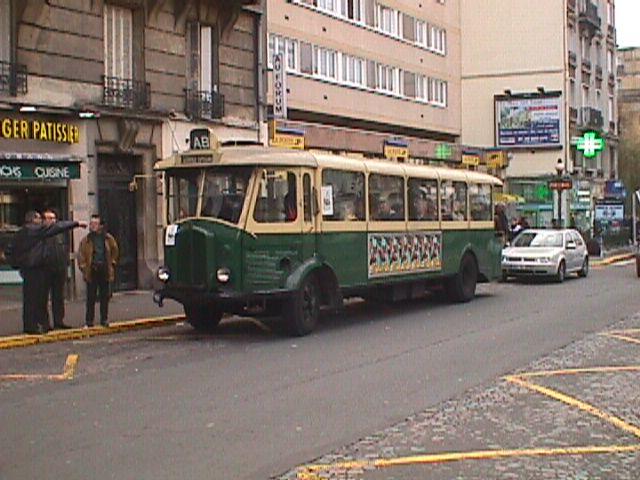 Déjà le bus TN6 à plateforme de la RATP attend ses premiers voyageurs au métro Mairie des Lilas pour l'exposition.
The TN6 bus shuttle operated by the RATP awaits its first passengers at Mairie des Lilas metro station to transport them to the exhibition.
Cliquer ici pour la suite... / Click here to continue
---
Return to Expométrique 2000 Unofficial Home Page
Return to GEMME Unofficial Web Page
Return to Frederic's Delaitre Home Page.
Created: 01/01/28