Voie étroite / Narrow Gauge
---
Le Musée des Transports de Djakarta
The Jakarta Transport Museum
Djakarta / Jakarta - Indonesia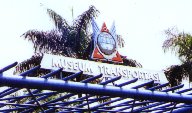 Toutes les photos / All pictures © 1996 par / by Frédéric Delaitre
---
Introduction :
Le musée des transports de Djakarta est situé au sein du parc Taman Mini.

Ces photos ont été prises lors d'un de mes séjours en Indonésie en avril 1996.

These pictures were taken during one of my stay in Indonesia in April 1996.
---
Galerie Photo / Photo Gallery :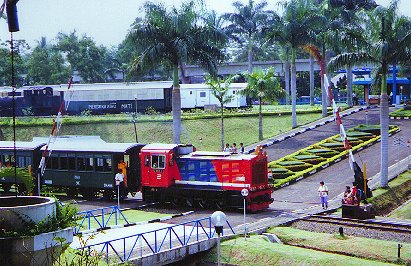 Un train en boucle à voie normale assure la desserte intérieure du musée.
A standard gauge track loops around the museum to carry the visitors around.
Une machine tender sur un pont tournant.
Malheureusement, le musée n'indique pas l'origine ni l'historique de ces engines.
A tank engine on a turntable.
Unfortunately, the museum does not provide any background information on any exhibit.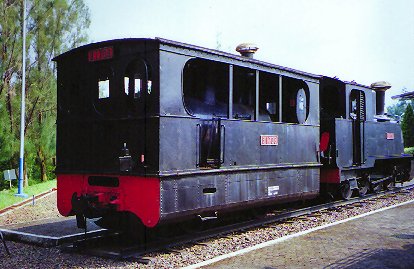 Une machine-tramway, l'influence du colonisateur hollandais est évidente.
A tram engine, the Dutch influence is obvious.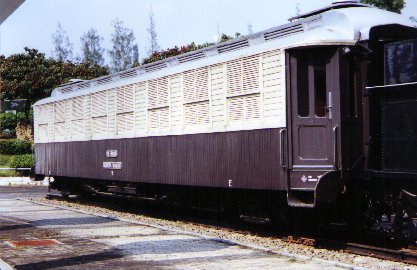 Et une voiture voyageurs au style tout aussi "batave tropicalisé".
A passenger coach of the "Tropicalized Dutch" style.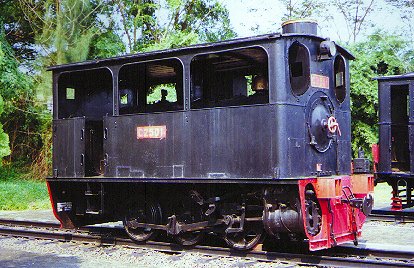 Une autre machine-tramway.
Another tram-engine.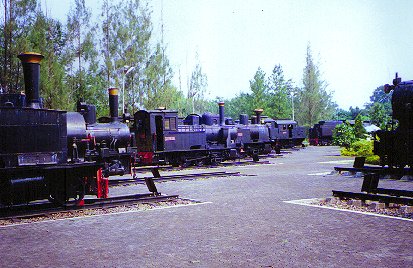 Une vue partielle de l'impressionnante collection de machines à vapeur.
A partial view of the impressive collection of steam engines.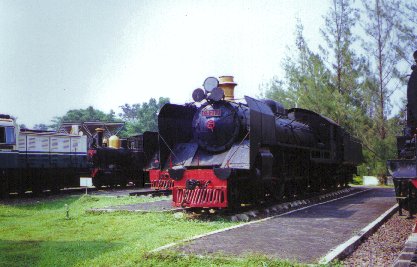 Influence japonaise pour cette 231.
Japanese influence for this 4-6-2.
Encore et encore des locomotives.
Steam engines, again and again.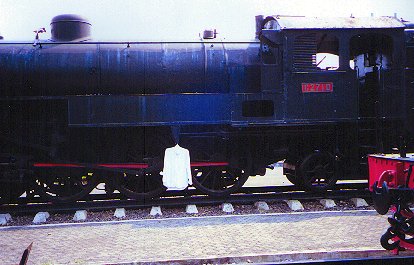 Sacrilège ! Enfin, il faut bien que la lessive sèche aussi
(avec les 100% d'hygrométrie de Djakarta, ce n'est pas si simple).
Shame! Well, the laundry must dry sometimes...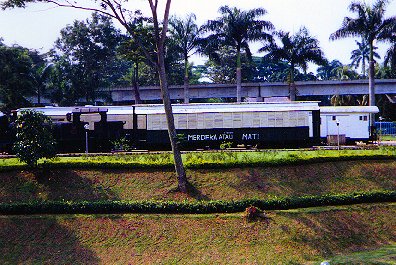 Probablement un train contemporain de l'indépendance de l'Indonésie.
L'inscription "Merdeka atau mati" sur la voiture signifie "La liberté ou la mort" en bahasa.
A train contemporary of the independence of Indonesia.
The phrase written on the side "Merdeka atau mati" means "Liberty or death" in bahasa language.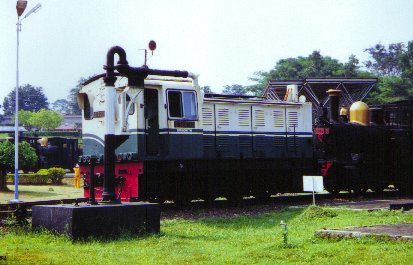 Un des rares spécimens de traction diésel.
A rare example of diesel traction.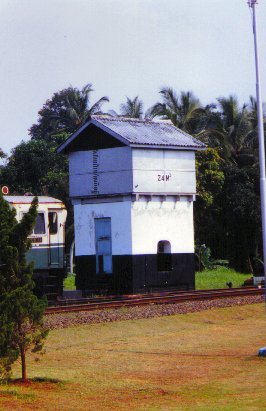 Un chateau d'eau.
Water tank.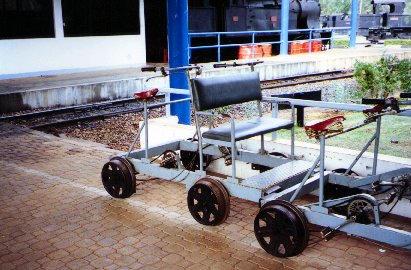 Draisine de service, à pédales.
Non-revenue equipment: a human powered section truck.
Le musée s'intéresse également aux autres modes de transport :
comme cette pirogue ou ce DC9 de Garuda, de fabrication Indonésienne sous licence McDonnell Douglas...
The museum deals with other aspects of transportation, such as this river boat
or this DC9 aircraft, formely belonging to flag carrier Garuda and built under license in Indonesia...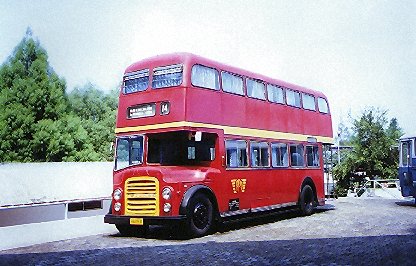 ...ou ce bus de Djakarta d'origine britannique.
...or this Jakarta bus of British origin.
---
Retour à la page principale.
Page créée le 21/05/2001.