---
Frederic Delaitre's Web Page to
Montreux MOB Railway Station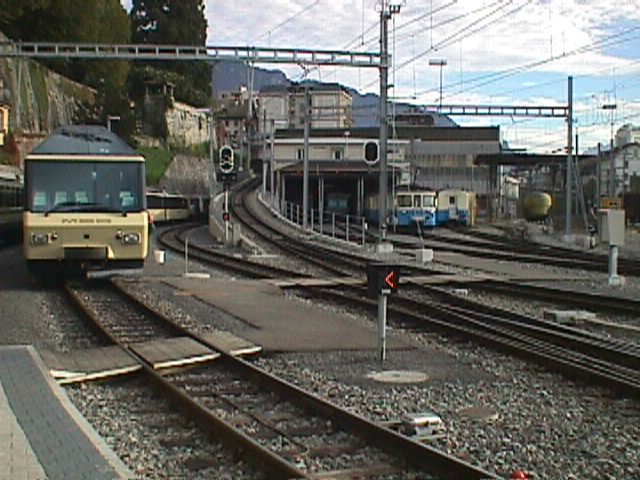 New entrance to MOB station in Montreux and carriage sidings.
---
Usual Disclaimer: This Web Page is in no way connected to or sponsored by the Montreux-Oberland-Bernois Railway. You may check MOB official Web site at www.mob.ch.
---
Contents:
Some Montreux dedicated links
(not necessarily railway related).
---
Some pictures of MOB Montreux Station and rolling stock (October 14th, 1998)
All pictures © 1998 by Frédéric Delaitre. To enlarge pictures, click with the left button of the mouse and select [View image] option (Netscape users only).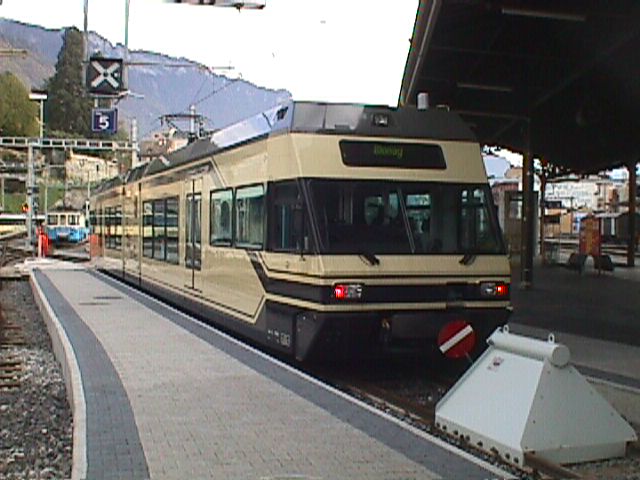 The "Tramway Leger de la Riviera" - Riviera's Light Rail on track 5 in Montreux.

This new service starts from Montreux up to Chamby, then uses Blonay-Chamby Museum line to Blonay, and go down to Vevey using Blonay-Vevey CEV (Chemins de Fer Electriques Veveysans, now part of the MOB group) line. The rolling stock used is obviously closer to modern tramways than standard MOB equipment.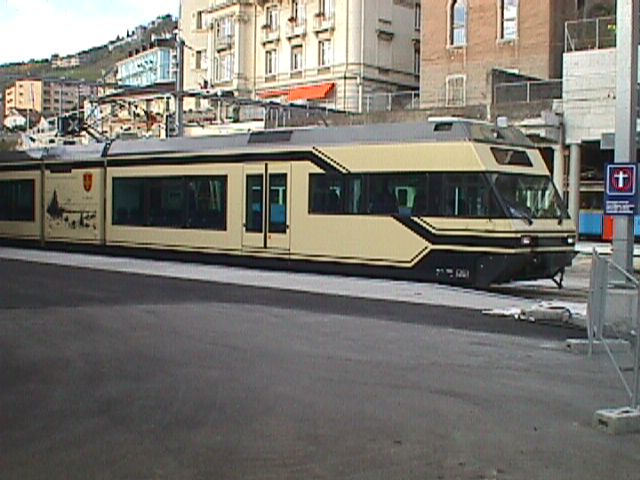 "Tramway Leger de la Riviera" - front and middle sections.

The articulated middle section contains all electronics and electromechanical control equipment, as well as the pantograph. Current timetable (Ref. 113) shows two trains in the morning, one at lunch time and two in the evening. This timetable is obviously oriented towards commuter and school traffic.

Update 06/2001: This service has been discontinued on May 27th, 2000. According to Rail Info Switzerland site: " The main reason was the good bus connections and the long distances to the railway station. Some trains were running without any passenger. "
Zweisimmen train on departure - track 6.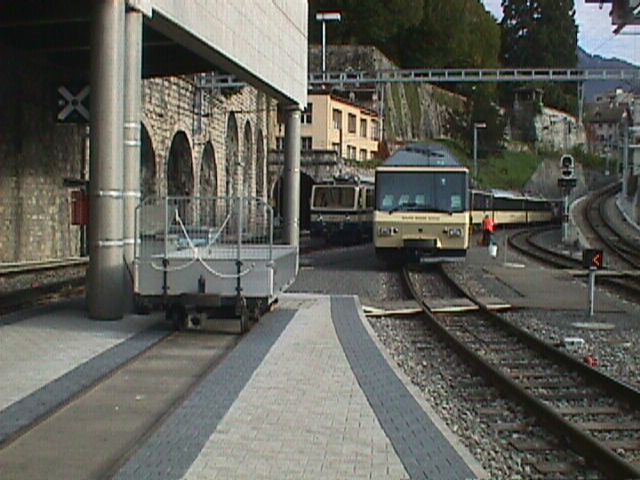 MGN (Montreux-Glion-Naye) and MOB sidings.

On the right is the new realigned track going upward towards Zweisimmen. Middle is the Crystal Panoramic Express pilot coach, designed by Pininfarina. Alongside is 80cm track sidings with 30x series MGN double electric motor coach. On the left, on the former site of the MGN tunnel, a new siding embedded in the platform has been created without Abt rack rail (the little wagon has certainly been shunted using human power...).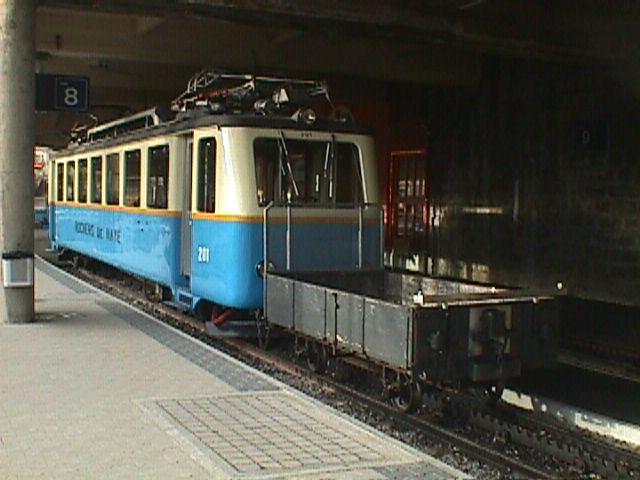 MGN 201 motor coach and GN15 wagon

Former Glion-Naye motor coach, built in 1938 for the Glion-Naye electrification, is still in use for normal weekday services to Glion, Caux and Rocher de Naye.

---
Some Montreux related links:

Montreux-Oberland-Bernois - MOB's Corporate Web Site.
Mountain Studios - Queen's rock group legendary studio in Montreux.
Montreux Official Web Site - tourist information about Montreux.


---
Return to Home Page.
Created: 98/10/20
Modified: 98/10/23